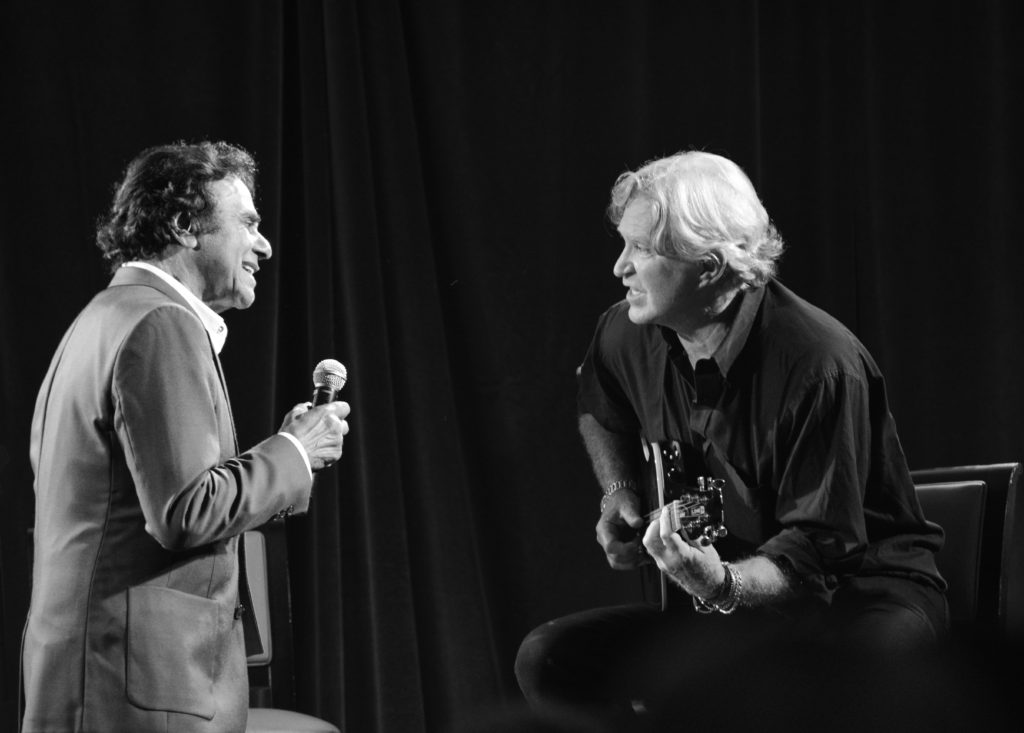 Event Recap: 2018 Heroes Of Child Justice Celebration With Special Guest And Friend, Johnny Mathis
Child Justice's 4th Annual Celebration was hosted at the Georgetown University Hotel 
and Conference Center 
from 2:30 to 6:30 pm on Sunday, September 23, 2018.  The Staff and Board of Directors of Child Justice 
were delighted to welcome over 300 guests who came to support Child Justice's work for children and their protective parents, to honor our Heroes, and to enjoy Music Legend, Johnny Mathis!
Sue Ann Berlin, Board Chair, introduced the Board Members, Staff and Executive Director, Eileen King, who spoke about how she began her work as an advocate in 1995.


King emphasized that raising awareness, about the problems seen in family courts across the country, is vital.  Adverse childhood experiences have consequences that ripple out for the children, their families, their futures and our entire society.  Tragically, for many children, outcomes are often worse for the accuser than the abuser.  Child Justice is on the cutting edge of change for children and their protective parents! The invisible and often unrecognized Heroes of Child Justice are the parents who are doing everything in their power to protect their children in our family courts.


Anne H. Hoyer, Child Justice Board Member and Director of the Maryland Safe At Home Address Confidentiality Program, introduced the 2018 Heroes of Child Justice Awards to:


Larry Hogan, Governor of Maryland
Yumi Hogan, First Lady of Maryland
John C. Wobensmith, Secretary of State of Maryland
V. Glenn Fueston, Jr., Director, the Maryland Governor's Office of Crime Control and Prevention
Paul Griffin, Child Justice Legal Director, introduced Scott A. Conwell, Esq. and presented him with the John A. Flyger Award for Excellence in Legal Advocacy.  John Flyger, with help from Child Justice, argued and won a precedent setting case in the Maryland Court of Appeals. Shortly after this success John passed away.  To honor John and in his memory, we will be awarding the John A. Flyger Excellence in Legal Advocacy to future Heroes of Child Justice who have distinguished themselves by their legal advocacy.


Leonard Weschler, our live Auctioneer, rallied a winning bidder for the Riviera Country Club Golfing Tour (with 2 hotel nights for two people) with Johnny Mathis and Tim Goodman. Congratulations, Gail Bassin! In addition, guests enjoyed bidding against each other for the high bid in our silent auction, walking off with great prizes - all for the benefit of Child Justice.


Congressman Steny H. Hoyer introduced Legendary singer, 
Johnny Mathis
.  In his remarks, Congressman Hoyer emphasized the importance of the work that Child Justice does as well as the truly frightening statistics of child abuse in America. Johnny Mathis mesmerized the audience when he came on stage and sang many of his greatest and best-remembered songs. His voice and presence are still enchanting!  Tim Goodman, musician and guitarist (and Child Justice Board Member) joined Johnny for three wonderful songs and then led into Happy Birthday for his upcoming birthday on September 30.
Two long-time fans, Mary Dews (President of the DC Mathis Fan Club in 1957-58) and Robert Marinaro, presented Mr. Mathis with a long-stemmed red rose and a cake with candles while our Heroes and guests sang Happy Birthday.


The successful afternoon was brought to a close with thanks to all who make Child Justice's work possible:  YOU are Heroes of Child Justice, too! Click below to view all of the photos from this year's event and feel free to browse the multiple media mentions also recapping the affair for more details!
---